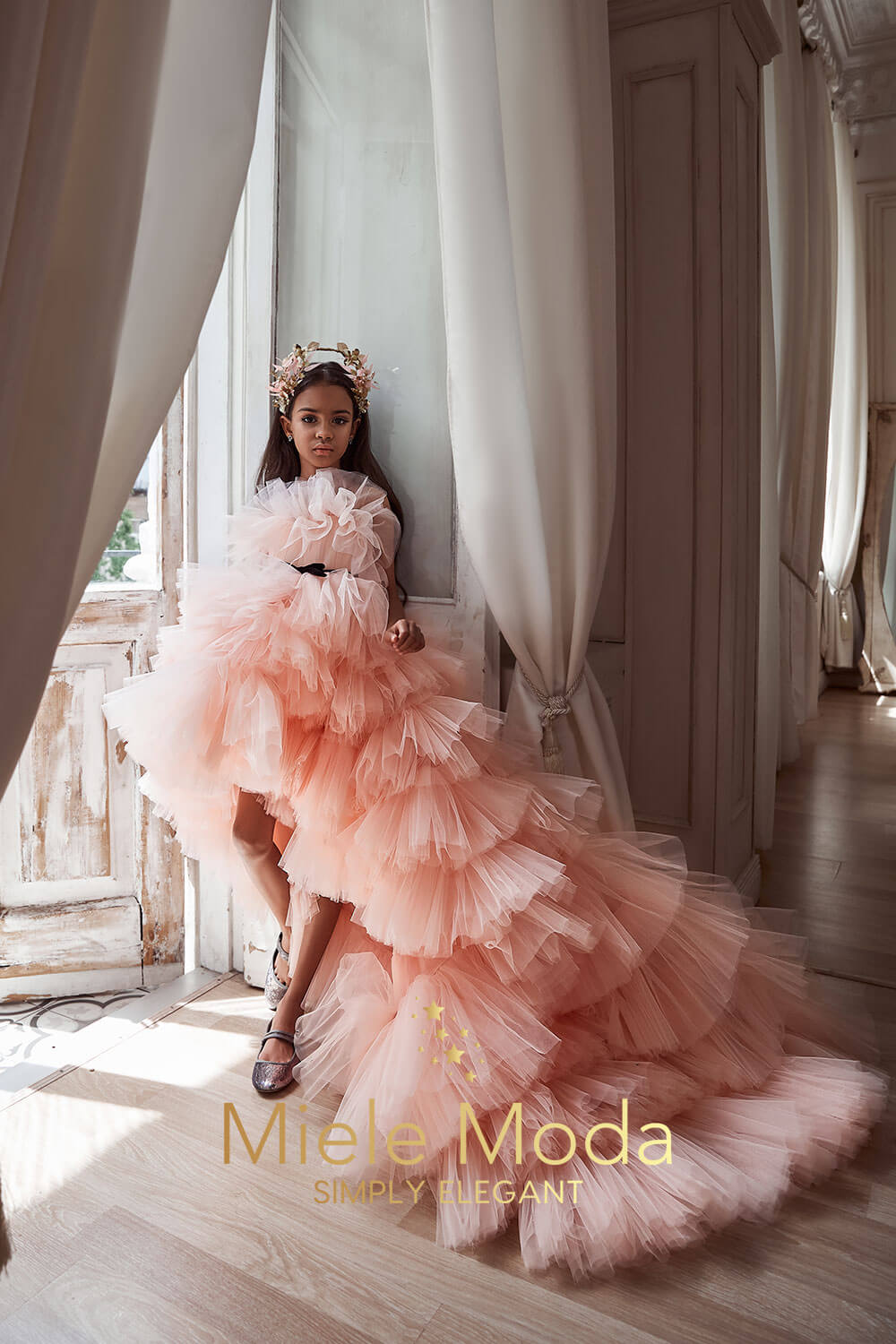 Welcome to Miele Moda Luxury Fashion Boutique!
WE SPECIALIZE IN GIRLS SPECIAL OCCASION DRESSES FOR WEDDINGS, FIRST COMMUNION, BIRTHDAY PARTY AND MUCH MORE
Miele Moda is a Pittsburgh-based online children's luxury store that specializes in beautifully designed and handmade flower girl dresses for weddings and various special occasions. From toddlers to teens, we offer a wide range of designs to help your little girl feels beautiful, special and confident in her special role. Her special occasion day, in one of our custom made dresses, will be an unforgettable day from her childhood that your family will treasure for years to come.
Miele Moda is a boutique of custom-made gowns tailored to your specific measurements. High-end design and exceptional quality shine through each girl's dress which incorporate a variety of premium lace, satin, finest tulle, and silk organza in their design. Our skillful designers and dressmakers bring more than fifteen years of experience from the wedding dress industry to create stunning gowns which attract customers from all over the world. 
Miele Moda's dresses are crafted in exquisite fabrics which make every young girl feel special. It is no surprise why we chose to partner with the top wedding dress designers in Eastern Europe. They have a long-standing traditions of being world-renowned in ethical garment production. Over the last few years of closely working together, we are incredibly pleased, impressed, and proud to be their partner. The most skilled private garment ateliers in Eastern Europe made our beautiful and intricate models; all our pictures relate to the original designers' images. Miele Moda regularly adds new designs to our ranges to provide the best choices for your little girl's special occasion dresses.
Whether you are looking for first communion or mini bridesmaid dresses, christening or flower girl dresses we have the design for you. We also supply baptism dresses, formal birthday gowns, frocks, and party dresses, so whatever the special event, you have come to the right place. We can design and handcraft the customized style or color of dress that you would like to see your little girl wear for her special occasion.
A Word from Our Founder:
"Hi, my name is Daniela...

... and I am the curator behind the beautiful garments and the designer behind the stylish accessories of Miele Moda. We are your premier online girls special occasion boutique for your little girls most memorable moments. We specialize in supplying only the original designer flower girl dresses, first communion dresses, birthday dresses, baptism and christening gowns, recital dresses, photography props dresses, as well as crowns, tiaras and flower headpieces and accessories. 

Being already in the fashion industry for years, designing couture headwear under my brand Honeydrops Designs, I was determined to provide something that will be an equal match to my couture headpieces - stylish yet comfortable,  without sacrificing quality and breaking the bank. Growing up in Europe also had me craving the European style and quality flower girl dresses I wasn't finding here. Fast forward to 2015 and Miele Moda was born as an independent brand. We get our pretty name from the Italian word for honey - "Miele", pronounced /'mjɛle/, and "Moda" is the universal word for fashion."

"We are on a mission...

...to search the world and bring you the sweetest, most glamorous and extravagant little girls dresses at a price you will love. We believe every little girl deserves the princess life experience without sacrificing comfort and quality.  Whether you're looking for that special birthday girl dress, a christening dress or a flower girl dress for weddings, we specialize in little girls dresses for any and all occasions. Our primary focus is to bring you the highest European quality and style gowns and accessories to your doorstep and save you multiple time consuming trips to many different stores with limited selections.

We work directly with many designers and manufacturers from Europe and multiple global brands to ensure our quality standards, design requirements, and so much more. We also design and handcraft dresses and fashion accessories in house for even further variety. Your princess will feel confident and comfortable while shining like a star." 

"Our luxury couture dresses...

... collection comes directly from the original European designers and are hand stitched by a team of skillful seamstresses to bring that exquisite, elegant, high end look you crave and deserve. Your daughter will leave her lasting impression at every wedding, baptism, birthday party or Red Carpet special event. We pride ourselves in giving you a world class shopping experience while you are preparing your little girl for that special day or event. With unmatched variety, customer service, and style, our goal is to make your experience flawless and unforgettable."
Enjoy your time shopping our collections and use the hashtag #mielemoda to share your stylish new purchase with friends and parents all over the world!